Pak Wins Their Second ODI Against Newz, Pak vs NZ
New Zealand scored their biggest ODI total ever in Pakistan thanks to Daryl Mitchell's 129, but the hosts won the series 2-0, Pak vs NZ
Pak Wins Their Second ODI Against Newz. By seven wickets, Pakistan defeated New Zealand 336 for 5 (Mitchell 129, Latham 98, Rauf 4-78) with 337 for 3 (Fakhar 180*, Babar 65, Shipley 1-58).
There isn't much anybody can do to stop Fakhar Zaman from having these types of days, and what makes him so unique is that he has them with a startling frequency. Pakistan's top ODI opener blitzed New Zealand with his third consecutive ODI century, this one a monster century, as he smashed an unbeaten 180 off 144 balls.
With seven wickets and roughly two overs remaining, his team defeated New Zealand's 336 total for their second-highest chase in the format. The foundation of the chase was a 135-run combination between Mohammad Rizwan and Babar Azam, who both hit 65 runs, while a devastating counterattacking partnership with Mohammad Rizwan put the game beyond New Zealand's grasp.
Yet despite the fact that New Zealand performed significantly better than they did in the first ODI, this match felt like a rehash. By scoring a hundred points, Daryl Mitchell helped New Zealand position itself for a massive total. And even though they posted 336 to get off to a far better start than they did in the first ODI, Pakistan's tight last three overs made sure the hosts gained some momentum in the latter stages.
Despite Matt Henry's wicket of Imam-ul-Haq in the last over of the powerplay, Pakistan started the chase brightly once more, and the hosts continued to cruise at over seven runs per over. Babar, who entered the game at No. 3, battled through the first few innings' overs, scoring only 16 runs in his first 25 balls. Therefore, it was Fakhar's responsibility to make sure Pakistan remained above the asking price, which he did expertly.
His dismissal of Ish Sodhi for 17 in the 21st over, which helped him reach his eleventh ODI hundred, marked the true acceleration. Before hitting Rachin Ravindra for a huge six over midwicket as Pakistan was now cruising, he had reached three figures in 83 balls. With two boundaries against Henry Shipley, Babar had now recovered his own touch and was cruising to another 50 years.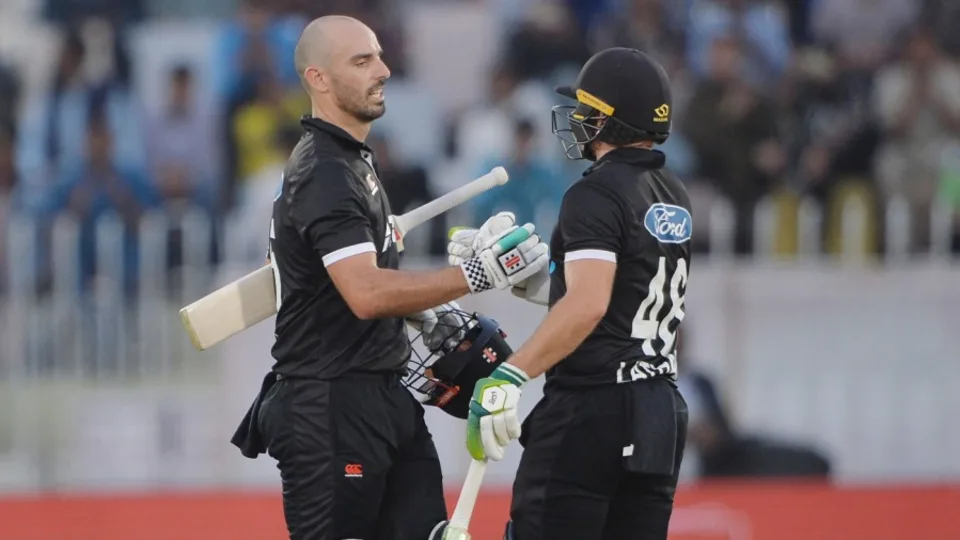 Up to Babar's own unintentional blunder, New Zealand tried all different bowling combinations without being able to break through. Before a leading edge caused the ball to fly up to Chad Bowes at short cover in the 30th over, he had blasted Sodhi for a six and a four.
The visitors next had a chance when Shipley forced debutant Abdullah Shafique to leave the game, but Rizwan responded with yet another potent counterattacking blow. It started off with a majestic cover drive from the opening ball and carried on with the same grace. Due to the fact that both experienced batters, especially the inexperienced Ravindra, tore chunks out of the bowlers, Fakhar was relieved of a lot of the pressure.
As Pakistan coasted to victory in the end, Fakhar reached 150 and continued to bat, while Rizwan's own half-century came off the penultimate ball he faced.
Earlier, New Zealand had amassed an impressive total of 336 thanks to Mitchell's second consecutive hundred of the series. The largest ODI total ever scored by New Zealand in Pakistan was built on a 183-run third-wicket partnership between him and his skipper Tom Latham, with Latham's 98 off 85 balls ensuring his partner had ample assistance at the other end.
There would be less of a let-up in the final 10 overs this time around compared to the first ODI, where New Zealand drastically lost steam in the final ten overs due to Pakistan's rock-solid bowling performance. By scoring 98 runs in the final 10 overs, including Mitchell's career-high 129 off 119 balls, New Zealand sped through the gears in the final few overs to pound home the advantage of the commanding position they had gotten themselves into.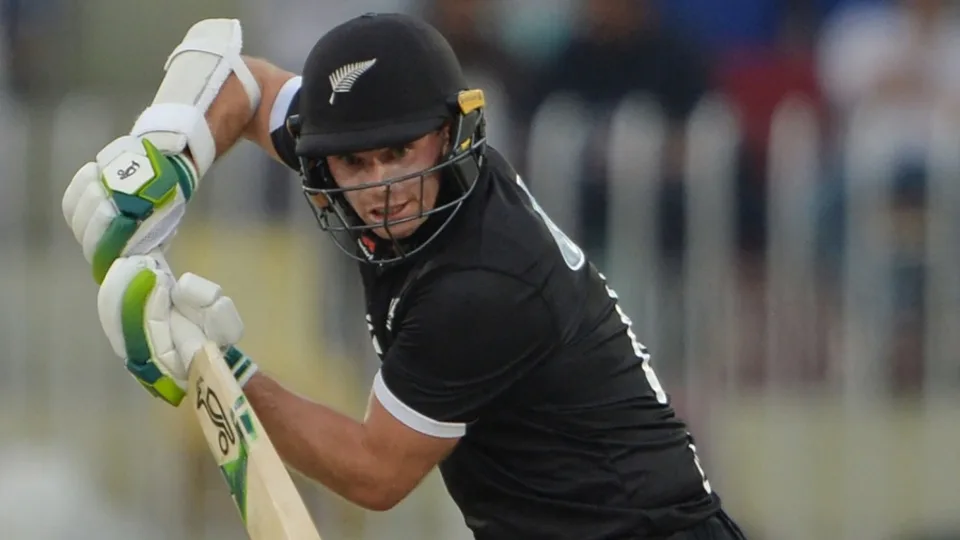 While New Zealand made a more urgent start than they did on Thursday, Haris Rauf struck to dismiss Will Young early after Pakistan won the toss and again elected to field first. However, no pace bowler was really spared, with the exception of Naseem Shah, whose accuracy and menace forced them to exercise caution. Ihsanullah, who was making his debut, took the brunt of the punishment for the third-wicket stand. Rauf wasn't spared either, as Mitchell thanked him for a four and a six in the 17th over, taking the team's total to 100.
After Bowes reached his first fifty, Haris struck again, but it allowed Latham and Mitchell to form the crucial stand of the innings. Latham had trouble with strokeplay on Thursday, but he had no such issues today, getting off to a quick start and efficiently using the spinners. Mitchell appeared unflappable in the typical Mitchell fashion, and the framework for New Zealand was being expertly constructed.
Pakistan played sloppily in the first game and must have regretted the opportunity to get rid of Mitchell before he reached the triple digits on Saturday as well. Mitchell was four runs away from the century when Naseem dropped a dolly at mid-on in the 39th over, preventing Usama Mir from getting the wicket his bowling merited. Latham took Mir away for four runs four balls later to bring up his own fifty, and Mitchell coasted to a hundred the next over.
At that time, the chains were broken, and run-scoring became simpler in the lack of Pakistani bowlers of the same caliber as in the first ODI. With Latham at the center of a large portion of the boundary-hitting, New Zealand scored 107 runs in the final 11 overs. When Pakistan reviewed a not-out decision in the 47th over and discovered that Latham had inside-edged to the wicketkeeper off Rauf while on 98, he was prevented from scoring a century. Finally, Pakistan's tight final three overs made sure that New Zealand was kept below the 350 that they had threatened.
On a day when Pakistan sped ahead in Rawalpindi while New Zealand stalled, there is little evidence to indicate that even that would have been sufficient with Fakhar and Pakistan in their current chasing form.